Although I'm new to this forum, I'm a long time Chuck Berry fan. I posted a review on another site of Chuck's 9/12 New York City show. I noticed some people asking about the show here, so I thought I'd post it here for anyone who is interested.
Here it is:
As long as I can remember, there was always Chuck Berry and early rock n roll music playing in my parent's house. So, I've been enjoying Chuck's music probably even before I knew his name (or my own name, for that matter). My parents were lucky enough to become fans of rock n roll before it even had a name.
At the ripe old age of 14, my father saw Chuck Berry in concert at Loew's (now Landmark) Theater in Syracuse, NY on July 13, 1956. At most, he paid a whopping $2.75 for his ticket.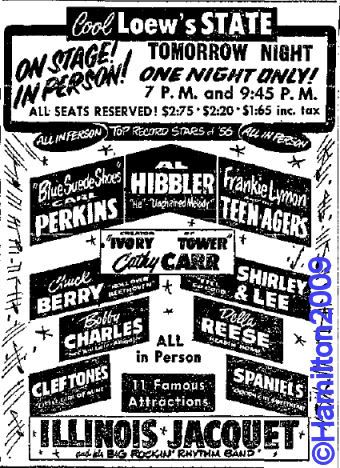 As you can see from this ad in a local newspaper, there were several acts performing that night on the "Top Record Stars Of '56" tour. When asked about this concert recently, all my father remembers is that Chuck Berry did his famous "Duck Walk" and that there were a lot of people dancing in the aisles of the theater. I would guess that each artist probably performed about 3 or 4 songs, with Chuck most likely playing his hits "Maybellene" and "Roll Over Beethoven". Although I don't know this to be true at all, I'd like to think that this show was the start of my father becoming a fan of rock n roll.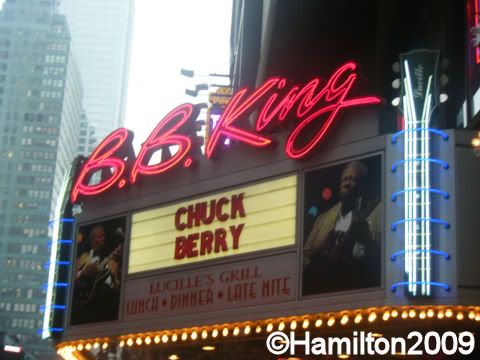 53 years later, I finally saw Chuck Berry in concert at BB King's Club in New York City on September 12, 2009. He performed for about an hour and had one opening act, Imelda May. My ticket for this show was a mere $97.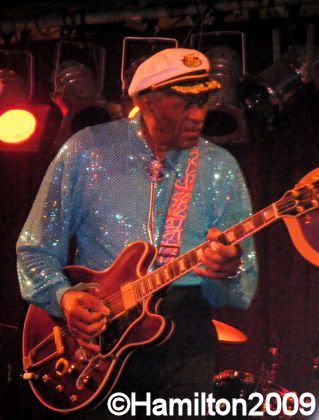 Here is the set list:
Roll Over Beethoven
Memphis
Wee Wee Hours
Nadine
Maybellene (part)
You Never Can Tell
Three Quarter Time
Carol
My Ding-A-Ling
Every Day I Have The Blues
Let It Rock
Johnny B. Goode
Jam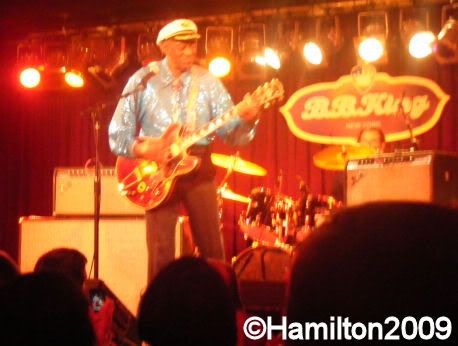 I feel very lucky to have been able to see the originator of rock n roll in concert. Chuck Berry is such a legend, I would've been happy if he just stood on stage while a DJ played old records. However, I was pleasantly surprised to find out that Chuck was full of energy and still enjoys playing as much as he did in the '50s. At the age of 82, he seems to be in much better shape than most of his peers that are still performing. He still stands up for his whole set and rocks like I imagine he did at my father's show - even doing a bit of his "Duck Walk" at the end of his set. Sure, he occasionally forgets lyrics (which is why he cut Maybellene - a fan request - short) and his old guitar sometimes has a problem staying in tune (most noticeable in the Johnny B. Goode clip below), but this show was still fantastic and far exceeded my expectations.

Thank you, Chuck Berry, for giving us some of that Rock N Roll Music.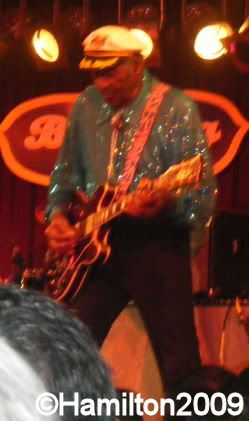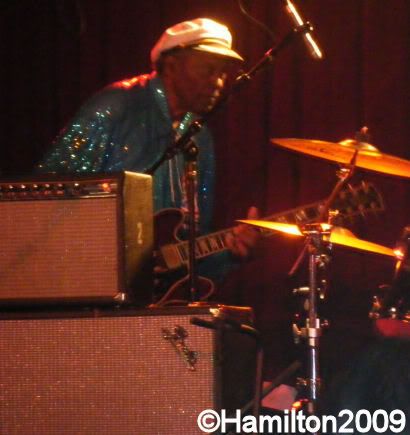 Here are some video clips I filmed at the show:
Maybellene - http://www.youtube.com/watch?v=HWOEC2JHaTA
Carol - http://www.youtube.com/watch?v=4FzyNNMRFVk
Let It Rock - http://www.youtube.com/watch?v=p02s1DLCSww
Johnny B. Goode - http://www.youtube.com/watch?v=jGCm4ovUXCw
NOTE: If posting videos is not allowed, please let me know and I will remove them.